Problem:
When user uploading MCA PDF form on MCA website and error is displayed " The Certifying Authority of the DSC that you are using is not trusted. Please use the DSC issued by one of the trusted Certifying Authorities mentioned in the MCA portal "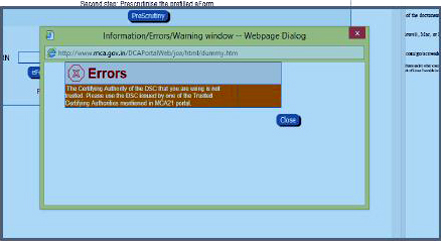 Upload TDS/TCS Return at LRL Services

Possible Solutions:
1) Some time MCA website does not response, so the above error is displayed. User are advised to use the DSC after some time.
OR
2) Some MCA website does not recognise the path of the DSC, in this case User are advised to download the CCA chain and Emudhra root chain from section of our website. We have given only Emudhra chain in our website, if user is using DSC of any other company, in this case, user has to install that company root chain.
After downloading the root chain, install both chain to the computer.
After Installing the root chain, restart the computer.
Apply New PAN or Correct the PAN at LRL Services