Question :
How to upload Income Tax Return by using Digital Signature Certifcate (DSC)?
OR
How to upload xml file on Income Tax Site by using DSC Management Utility?
*Same procedure will be followed in case of uploading .xml of Tax Audit Report (TAR) on Income Tax Website.
Solution :
For uploading of all types of XML files on Income Tax Site E.g:- Income Tax Return(ITR), Tax Audit Report(TAR) etc use XML Upload Button of DSC Management Utility for generating Signature File.
Step 1: Create Signature File:-
(a) Click on "Upload XML"
(b) Browse the XML File.
(c) Click on "USB Token" button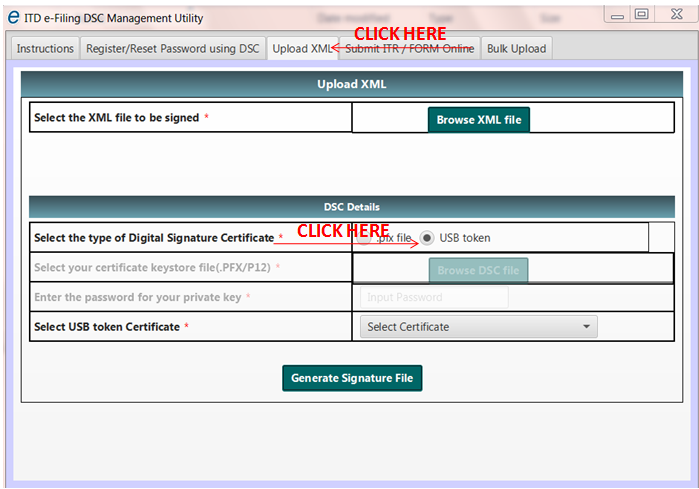 (d) Select the Certificate.
(e) Click on "Generate Signature File"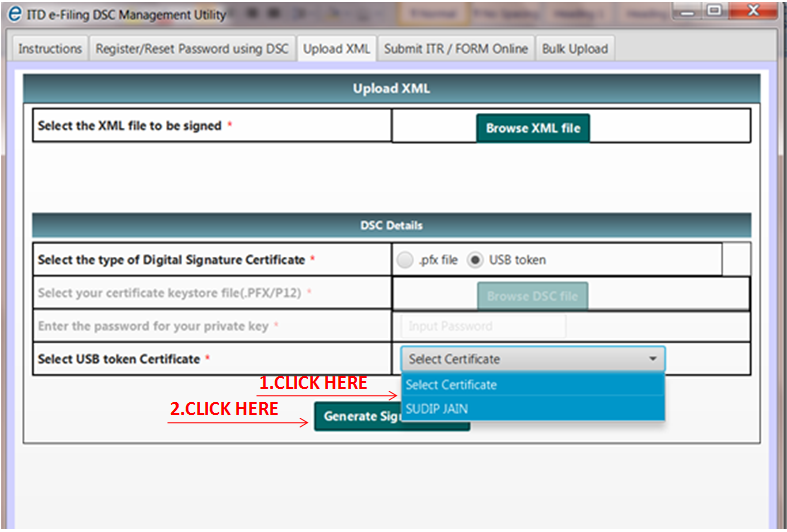 Buy DSC From us
GET DSC for PF, Income Tax, MCA, GEM portal, GST, Tax Audit @ Rs.900/- two year validity & @ Rs. 1100/- three year validity DSC .
DSC for Tender Filing @

Rs.1500/-

two year validity and @

Rs.2000/-

three year validity.
Get DSC anywhere, Home Delivery Available.
Step 2: Log in into Income Tax Website
Step 3: Click on E-file.
Step 4: Click on Upload Return.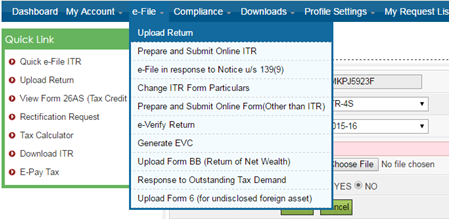 Step 5: Fill the Details.(i.e. ITR Form name, Assessment year).
Step 6: Attach the ITR XML File.
Step 7: Click on "YES" button for digitally sign the return.

Step 8: Attach the signature file.
Step 9: Click on "Submit" button.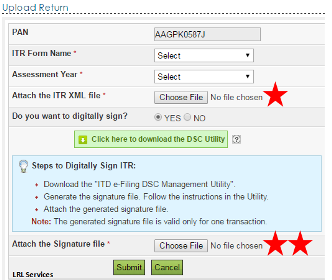 * Upload XML here
** Upload signature file Created through Upload XML button of DSC Management Utility
Step 10: Your Return will be uploaded successfully.