Question:
How to register Digital Signature Certificate (DSC) on TRACES?
DSC not working on TRACES
If user is also facing error
Error in establishing connection with TRACES websocket Esigner please ensure that websigner in installed and service is running on your machine and there are no proxies on the browser while doing DSC activities
Traces websocket esigner download/how to register dsc on traces/how to change registered dsc in traces/traces websocket esigner/technical error occurred while dsc registration please report the issue to traces customer care team/traces dsc registration error/token not found please insert the token traces/traces site is not working
Upload TDS/TCS Return at LRL Services



Solution:
Note :- If DSC not showing on portal, update token driver and embridge/emsigner
Note 1) User are advised to use google chrome
Note 2) There should be only one JAVA in computer system. The website WWW.LRLSERVICES.COM has such version of JAVA which is acceptable by almost all the website. you can download the java from section of our website.
You can also refer
How to check JAVA(s) in computer system
Buy DSC from LRL Services
Class 3 DSC signing

for EPFO, Income Tax, MCA, GEM portal, GST, Tax Audit, TRACES

Buy At Very Discounted Price
Pre-Post Sale Services Available
Get DSC anywhere, Home Delivery Available.
Step 1: Login on TRACES.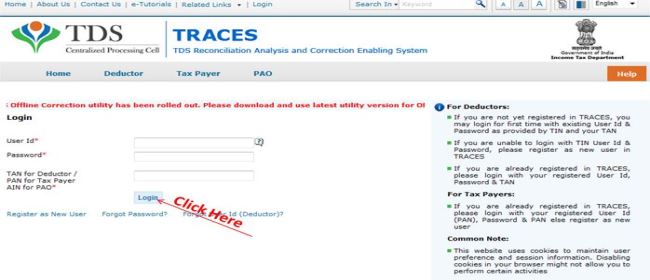 Step 2: Download Traces Websigner Setup V 2.0. Go to "Downloads"
Step 3: Click on "Click Here"
Step 4: Enter Verification Code. Click on "Submit"
Step 5: Click on "Traces Websigner Setup V 2.0."